Winter is coming: how Doccla's virtual ward pathways support Urgent and Emergency Care
By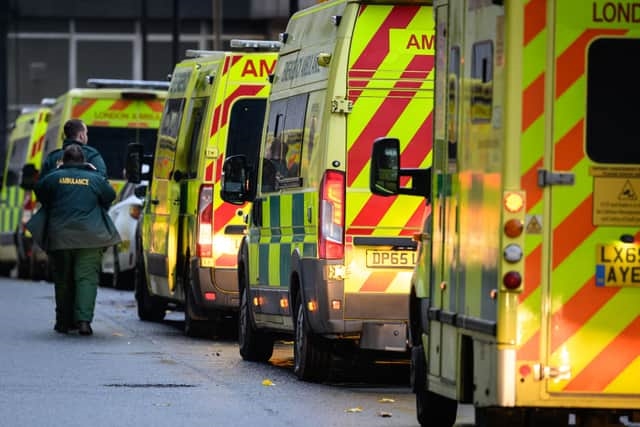 Tara Donnelly, Founder of Digital Care Limited, explains how Doccla is supporting NHS Urgent and Emergency Care through an innovative suite of virtual ward and remote patient monitoring technologies.
---
Emergency Departments (EDs) across the NHS in England have experienced another record-breaking year, both in terms of increased volumes of patients attending – more than 24 million emergency attendances – and decreases in performance against waiting time standards. Pressures on EDs are no longer seasonal but exist all year round, leading to adverse patient experiences. It is imperative that all those involved reimagine how Urgent and Emergency Care (UEC) services are delivered to support NHS colleagues who are bracing for a challenging winter ahead.
There is increased recognition that digital solutions could help to alleviate some of this burden. NHS England's latest guidance to deliver the UEC Recovery Plan spotlights the expansion of virtual wards as a high impact intervention this winter. Doccla, a leading provider of virtual wards and remote patient monitoring, is working closely with its NHS partners to provide alternatives to admission and to relieve bed congestion by supporting early discharge. The team works with more than a third of integrated care boards, providing:
A customised suite of technology to help clinicians and carers monitor patients at home.
Clinical dashboards that enhance caseload management through holistic views of patient cohorts and visualisations of patient data trends over time.
Integration with electronic patient records to enable flow of coded data from the Doccla dashboard to the patient's medical record during their stay on the virtual ward.
Access to multi-disciplinary clinicians with specialist training in remote monitoring.
An end-to-end logistics service that task-shifts administrative and non-clinical activity from busy clinicians.
Access to a patient support team, which uses a variety of accessibility tools to ensure patients from all demographics are aptly supported on virtual wards, from onboarding through to discharge.
Doccla's technology has been pivotal in enhancing various admission avoidance pathways within UEC settings.
---
Remote monitoring available to community urgent response teams
Doccla's technology is integrated within Hertfordshire Community NHS Trust's (HCT) virtual ward service. Under the guidance of HCT's Medical Director, Dr. Elizabeth Kendrick, the service has enabled the rapid assessment, diagnosis, early treatment and discharge of over 4,000 patients – recently winning a Parliamentary Award for its work.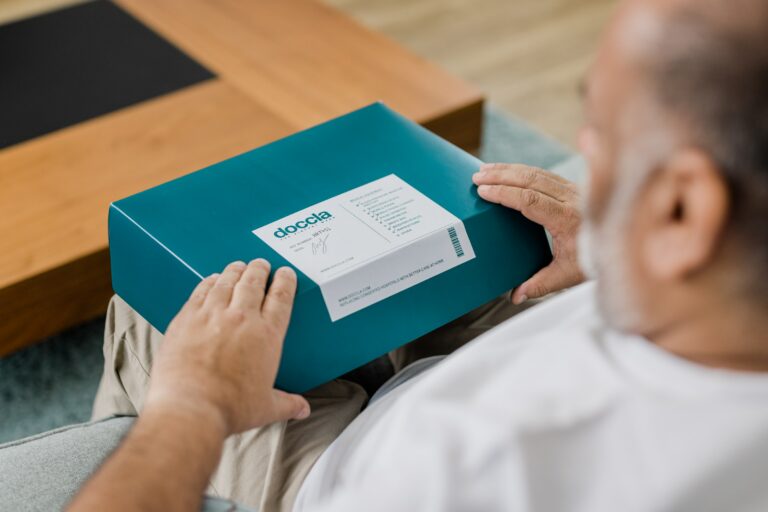 Most recently, the technology has been deployed to HCT's urgent care and response teams tackling ambulance wait times. Rather alarmingly, one in 10 ambulances spend more than an hour waiting outside hospitals. Joining forces with the East of England Ambulance Service, HCT equipped its community urgent response service with Doccla remote monitoring boxes so they could have an additional tool to support people to stay at home. Early evaluation of the pilot showed promising results, including:
Reduced ambulance conveyance rate to 33 per cent (from an anticipated 100per cent conveyance rate).
Reduced ambulance attendances by 18 per cent at East and North Herts NHS Trust.
Increased time available for crew to respond to acute emergency calls.
Reduced handover delays outside hospital.
---
Tackling surges in respiratory admissions this winter
Seasonal variations in respiratory admissions are a major contributor to pressures within emergency care settings over winter. There are 80 per cent more lung disease admissions in the winter months of December, January and February than there are in the warmer spring months of March, April and May.
Virtual wards provide an alternative mechanism for services to manage patient flow and to cope with the surge in respiratory admissions. The Doccla-supported ARI pathway at Northampton General Hospital (NGH) has demonstrated considerable efficiencies for the delivery of care. By supporting early discharge, NGH's virtual ward service achieved:
11 per cent reduction in length of stay.
30 per cent reduction in bed days.
Likewise, tech-enabled remote monitoring enabled earlier detection of, and interventions for, deteriorating patients, resulting in a 15 per cent reduction in readmission.
While additional UEC funding has been injected into integrated care systems, allocation of monies is challenging when there are competing needs across care settings. It is paramount that the additional funding is maximised. NGH's virtual ward service demonstrates a £13,000 per month saving (associated with the reduction in bed days) and more broadly, has enabled workforce capacity savings. Analysis in 2021 showed on non-tech enabled wards, there is 1 nurse per 8.3 patients on average. Doccla's tech efficiency gains have expanded this to 1 nurse per 10 patients.
---
Augmenting SDEC services
Bristol, North Somerset and South Gloucestershire (BNSSG) is another example of how effective partnership between clinical and operational teams, in conjunction with Doccla's innovative technology, can reduce admission rates. Between February and May this year alone, BNSSG's NHS@Home service:
Provided an alternative to admission or supported earlier discharge 487 times.
Enabled local people to be cared for at home for an additional 4442 days
Supported cost savings of £1,479,186.
Avoided readmission for 87 per cent of patients.
In collaboration with Doccla's remote monitoring technology, BNSSG NHS@Home teams are pioneering the use of remote monitoring for same day emergency care (SDEC) patients to avoid inpatient stays within North Bristol Trust – with the SDEC model contributing approximately 20 per cent of NBT's weekly referrals to the NHS@Home service.
An example of a presenting condition being cared for in this way is the bacterial infection Cellulitis, which results in more than 100,000 hospital admissions per year in England alone. The new pathway has the patient set up for remote monitoring while in the hospital; they are given a Doccla box to take home and asked to send in their readings over the next few days, to indicate to the clinical teams whether or not the infection is under control. Given that 1.6 per cent of all NHS hospital admissions are due to Cellulitis, enabling speedy discharge or reduction of inpatient stays for patients with the condition has the potential to shift the dial on bed pressures this winter.
---
Conclusion
It feels important both for patients and the sustainability of the NHS that we do everything in our power to rapidly scale innovative solutions that are demonstrating impact in tackling pressures in Urgent and Emergency Care pressures.
As a trusted partner to health systems and providers, Doccla's technology is being flexed in agile and impactful ways to support urgent care pathways this winter.
If this has sparked ideas that you are keen to action locally, please reach out to the Doccla team here. Doccla will be attending Public Policy Projects' ICS Delivery Forum on 4th October to continue the conversation.
---