Using digital across adult social care to enable independence for longer
By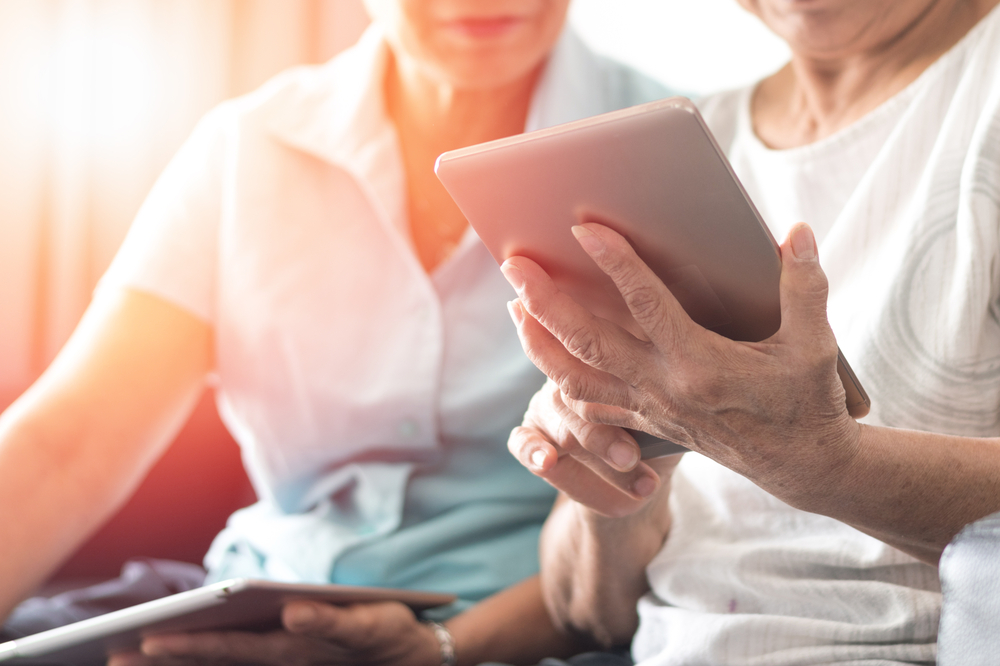 This content is supported by Access Group.
---
In January of this year, PPP published their report, A care system for the future: how digital development can transform adult social care. The report examined the status of the social care system, focusing on the use of technology to support services, and the steps that need to be taken to support the full digital transformation of the sector for improved care, increased efficiency, and workforce satisfaction.
Recommendations from the report covered enabling DHSC to ease the burden of social care providers operating in multiple ICS footprints who deal with a variety of Shared Care Record formats, the support of digital inclusion among people receiving adult social care by local authorities and mandatory basic digital training for adult social care professionals.
The government has recently announced that £600 million is to be allocated to the adult social care sector to boost winter capacity, fund a research programme to determine future policies for social care, and follow through on commitments made in the Next Steps to Put People at the Heart of Care white paper. In order to achieve these goals, DHSC should not undermine the importance of investing in digital technologies within the social care sector, which will increase efficiencies and reduce pressure on frontline staff.
Examples of this type of technology are provided by The Access Group and include Access Assure and Oysta Technology – part of their Technology Enabled Care (TEC) solutions. The Health, Support and Care division (HSC), of which Access TEC is a part, works with more than 10,000 registered care providers, more than 200 local authority departments, and 50 NHS trusts, providing technology that helps these organisations deliver more efficient and personalised care.
Access Assure is a key pioneering technology supporting the adult social care sector by allowing vulnerable individuals to live independently for as long as possible and giving their loved ones peace of mind that they are safe, even when alone in their homes.
Alex Nash founded Alcuris – now Access Assure – in 2015 following his grandfather's diagnosis with dementia, after noticing a lack of sufficient updates on his wellbeing. He developed a digital care solution that learns the behaviours of individuals and supports their independent living, while also providing the necessary information to the relevant health and care professionals.
The platform uses insights from social alarm and smart sensor technology to enable caregivers to provide proactive care by seeing where anomalies in data could be caused by health complications. These can include notifying carers if someone hasn't been mobile, which could be due to a potential fall, or if they haven't been going to the toilet regularly, which may be a symptom of a urinary tract infection (UTI), which is one of the biggest causes of hospital admissions for older people in the UK.
NHS East Lothian has been using the product since 2019 to review patient data and make decisions about the care of each individual. The system has enabled them to change care packages by identifying issues such as UTIs, making their delivery of care preventive of larger issues. By connecting direct costs in care to the use of Access Assure at NHS Lothian, it can be seen that each UTI avoided, or detected early on, produces a cost avoidance of around £3,000 per event.
A 2020 white paper titled Next Generation Telecare: The evidence to date, focusing on 29 family members users using Access Assure, also showed that 83 per cent of families felt it provided increased reassurance because even when not with their loved ones, they can still support them remotely and check-in.
Across the Access Assure customer base, staff have reported significant improvements to their work experience since using the technology. Tools embedded within the system have streamlined administration processes, helping staff cut admin time from 4 hours to a few minutes per individual, releasing time to care. Local authorities can also access the data to intervene swiftly, reducing the need for emergency care and improving quality of life for individuals. When the average wait time for an ambulance is 56 minutes and each callout costs the NHS around £252, the ability to pinpoint potential health complications early with platforms like Access Assure can prove significant in alleviating current pressures on emergency care.
Plus, the Access Assure dashboard, which has been developed over the last year, allows all Access Assure devices and their data to be pulled together into a single resource. Considering the insights provided by Access Assure, the Next Generation Telecare white paper also highlighted that over 40 per cent of care plans were amended after close interrogation of the data, resulting in better care for individuals and a reduction in hospital visits. The dashboard highlights information which can be saved as a PDF so that local authorities can quickly recognise any anomalies and spot where intervention may be needed.
Using Access Assure, patients can be supported to live independently for longer, and care providers and staff are able to drive care management forward. And collectively, with Access' other technology enabled care solution, Oysta Technology, and wider HSC portfolio of technology, health and care professionals can take a more proactive and preventative approach to person-centred and participatory care. Access TEC supports NHS, local government and registered care organisation customers wishing to ensure service-users maintain and enhance their independence and confidence, while having dignity, security, and reassurance. These solutions also prevent, reduce or delay hospital admissions or the need to access care home settings and improve the quality of life for the cared for as well as family members and informal carers so that people are supported to stay safe, happy, and healthy in the communities they call home.