PPP's Population Health Management Collaboration Framework
By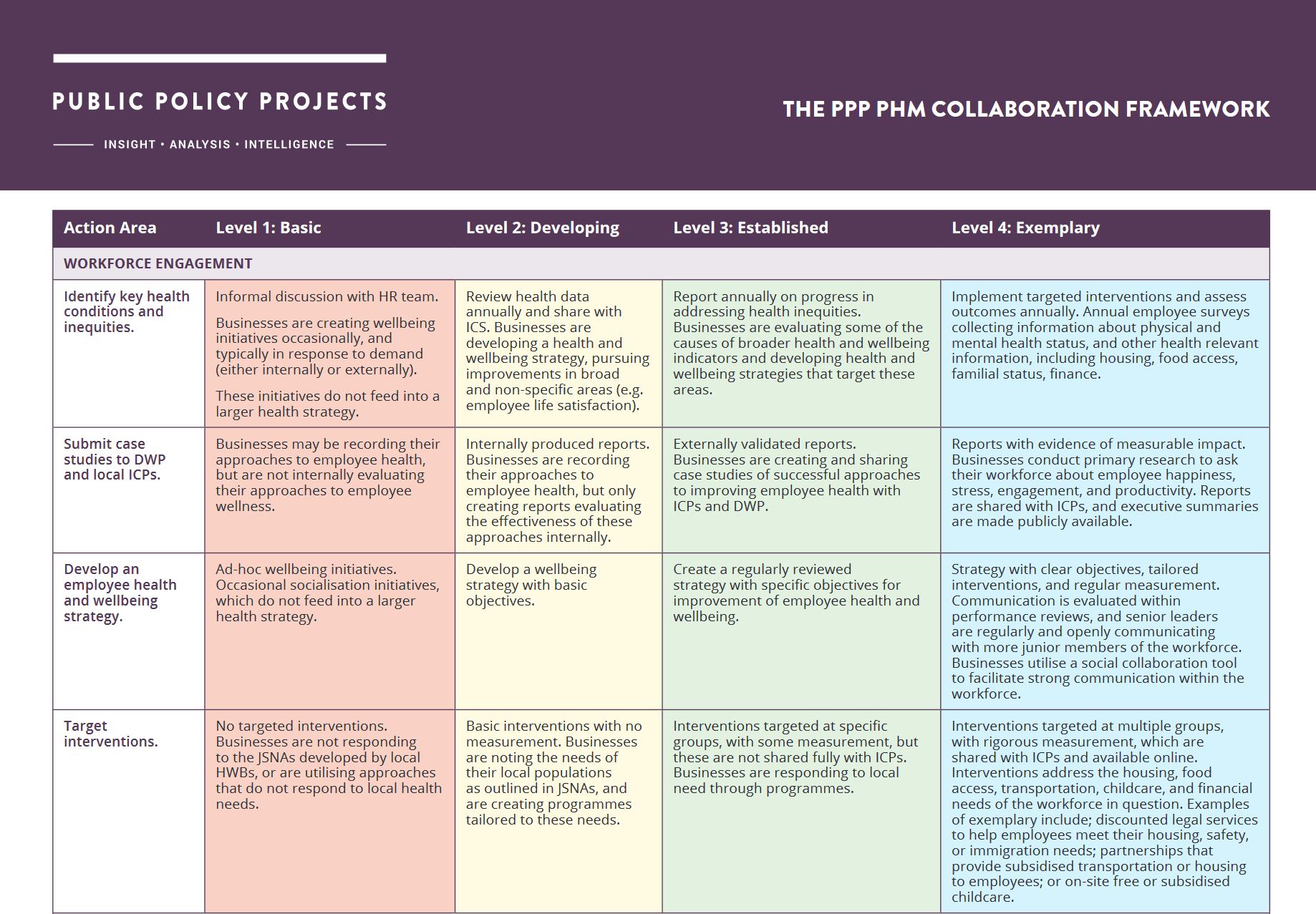 A new framework from PPP enables ICSs and business to assess and measure the progress of their collaboration on population health management.
---
Over the first half of 2023, PPP ran a series of roundtables for our Population Health in Business series, to analyse and explore the impact of business on the health of local populations, and explore how this impact can be leveraged to deliver benefits to businesses, workforces and communities. As the report highlights, ensuring that local business activity is sensitive and responsive to local health challenges requires close collaboration between business and local authority leaders. This collaboration, ideally, should occur within the framework of the integrated care partnership (ICP).
ICPs are intended to allow ICS leaders to "bring together a broad alliance of partners concerned with improving the care, health and wellbeing of the population", as well as spearheading the integrated care strategy for a given system. Each ICS can decide which partners are included in the ICP, however suggested partners include local Health and Wellbeing Boards (HWBs), social care providers and members of the VCSE sector.
As conveners of local health-relevant organisations beyond the NHS, ICPs have the potential to rebalance the focus of health and care away from acute hospital settings and towards the broader health needs and goals of communities. This will empower organisations not traditionally involved in health-related decisions to make more active contributions to public health outcomes. Businesses have the potential to serve as partners in the delivery of a health inequalities strategy given their impact on their workforce and surrounding communities, and grow the impact of assessments such as the JSNAs already produced by HWBs.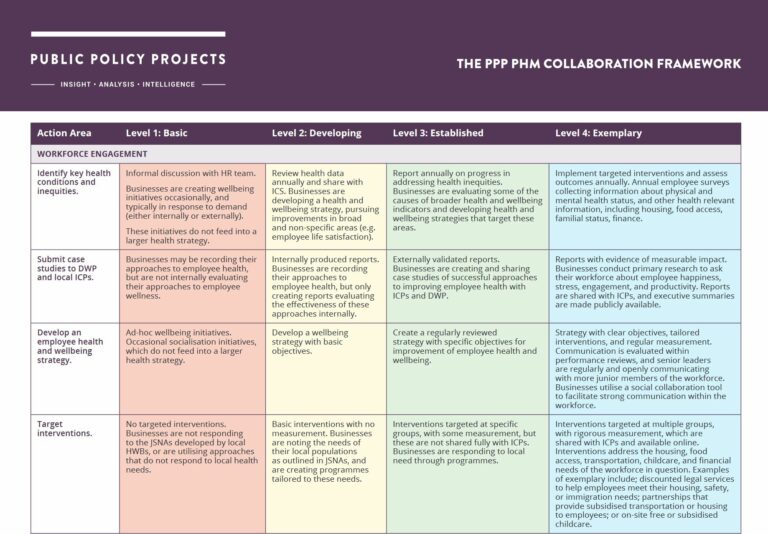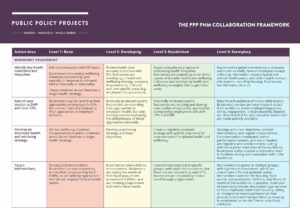 ---
Joining up business and public health
By bridging the gap between public services and local industry, ICPs can support and monitor actions taken by businesses to create healthy workplaces and support employee health, assisting in setting priorities and objectives and advising on health and wellbeing issues. ICPs can also serve as forums of communication and alignment between ICSs, businesses and local health-relevant organisations, enabling businesses to contribute more effectively to community health.
ICPs could also play a central role in enabling better public-private data exchange, which will be crucial in determining the quality and impact of PHM insights. As a broad alliance of partners, ICPs can provide a forum through which businesses and local authorities can improve the accessibility and availability of data. While the needs and capabilities of businesses with regards to data usage vary significantly within an ICS region, the development of PHM strategies is ultimately a process that caters to the needs of a specific population reflected in health-relevant data collected and held by businesses.
The full Population Health in Business report can be accessed here.
Where businesses are able to share insights and collaborate to improve health outcomes within the same population (both with one another and with local authorities), there is a significantly greater opportunity for mutual needs to avail themselves – thereby laying the groundwork for more effective collaboration. The blueprints for such a collaboration can then be shared between ICSs and with central authorities such as DHSC, and local government including the Local Government Association and the Department for Levelling Up, Housing and Communities, to facilitate their development of data standards as recommended by the Hewitt Review.
However, though the report suggests that businesses should collaborate with one another and local authorities, using the ICP as a connecting forum, it must be recognised that many of these partnerships remain underdeveloped and that their progress is likely to be asymmetric. It is therefore necessary that businesses take an active role in assessing the strength of their own actions on health inequalities and their collaborations with local authorities.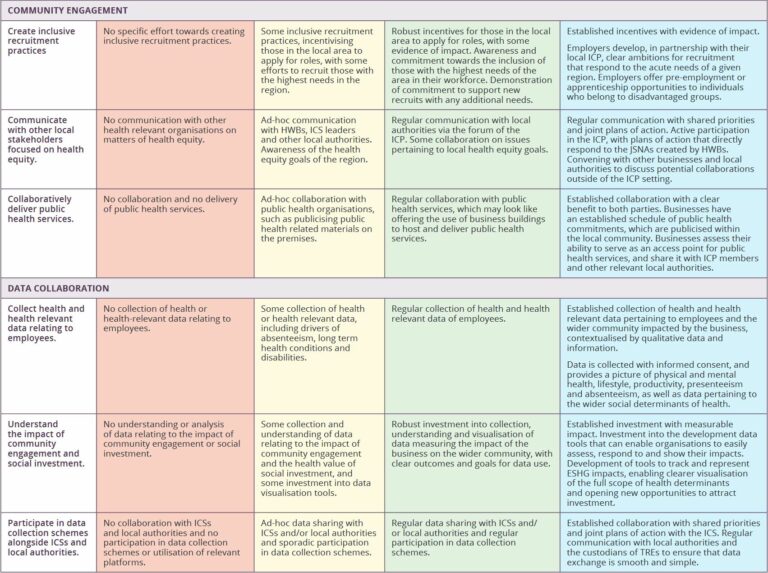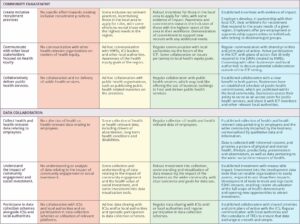 ---
A framework for collaboration
There are ongoing concerns within ICSs around the challenges of balancing the unique local needs and priorities of regions with national standards. In order for all ICPs to partner with local businesses in achieving improved regional health, collaboration and data sharing frameworks should be utilised to ensure consistent goals and progress across regions with different priorities, while avoiding duplication and so as not to discourage inter-ICS collaboration.
In order to support businesses and ICPs to implement the findings and recommendations from the series, PPP has crafted a suggested framework for ICS and businesses to collaborate and measure progress.
The framework is intended to compliment other matrices, such as the Leeds City Council Business Progression Framework, the JRF Business Progression Framework (both assembled by Les Newby and Nicky Denison), and the ICS Maturity Matrix (created by Cathy Elliott). These matrices provide examples of best practice and rough guides for organisations to evaluate their own progress as health-enhancing institutions. As such, the PPP PHM Collaboration Framework is intended to guide businesses to evaluate their own progress towards partnering with local authorities and interacting against local health systems to develop robust preventative healthcare and target causes of ill health.
---
The full Population Health in Business report can be accessed here.