Making the creative leap: a healthcare case study
By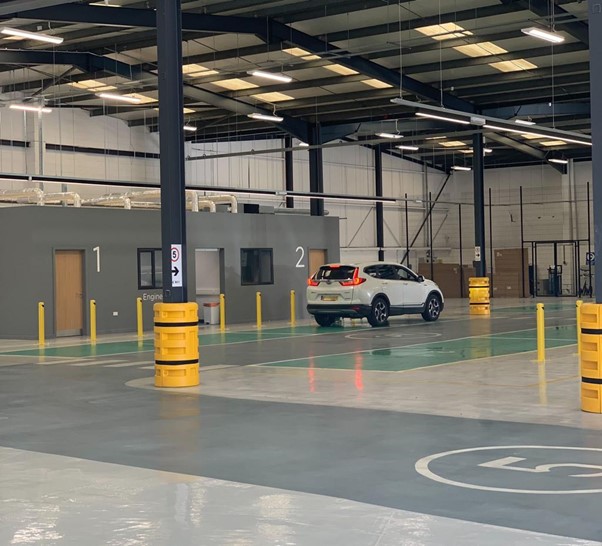 Amid greater demand for NHS services, increased use of computer modeling in the planning stages can improve efficiency of delivery.
---
Plan-Do-Study-Act (PDSA) is deeply embedded in the NHS – and why not? It is simple to grasp and easy to explain. It puts improvement in the hands of those who deliver the care, empowering staff with knock-on benefits for patients. However, it is focused on incremental improvements, and may miss what works well already.
Increasingly the NHS must introduce new systems and services quickly, which is where PDSA runs out of steam as a way to manage innovation. In early 2021, Birmingham and District General Practitioner Emergency Room (Badger) Group set out on its final phase of rapid access delivery. Badger group, which delivers out-of-hours primary healthcare to local patients, was preparing to open a drive-through facility in Bourne Road in Aston. When planning for the opening of this facility, the team used an adapted form of PDSA and added something new.
The adapted feature was to stick to a cycle – study, plan, do (SPD) – which emphasises iterative solutions. Cycles are key to systems design, because it is impossible to specify anything completely from scratch. Also, as a solution is developed, the problem often changes. With rapid access, for instance, making it easier for people to reach the care they need can risk creating bottlenecks and queues as people converge on the new facility.
The innovation was to use computer simulation alongside measurement based on physical facilities. Models may be built and assessed faster than a real service, which speeds the design process up enormously. Models are also safe, since nobody suffers during a simulation. Figure 2 shows an example of two cycles of a design process using SPD at its core.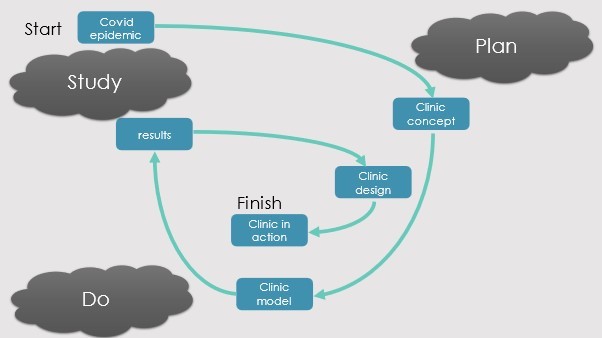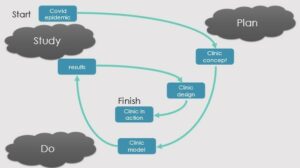 ---
Study
GK Chesterton said, "The Reformer is always right about what's wrong. However, he's often wrong about what is right." It is critical, therefore, to analyse what works well at each stage of an emerging design, as well as to understand what remains problematic.
With each cycle of the design complete, there is usually more evidence and data to feed into the next plan and computer models can address two questions:
Is the plan likely to work as intended? This is the 'what works' question.
Under what circumstances is it likely to fail? This is the 'what risks' question
In this case, as several rapid access, drive through facilities were built over a short period, the data available for study became very detailed – as shown in Figure 3.


---
Plan
Given increasingly sophisticated data, it is possible to plan in ever greater detail and with greater confidence. Planning is an interactive process, ideally drawing in as many stakeholders as possible. White boards, as shown in Figure 4, are an effective thinking tool at all stages of the process.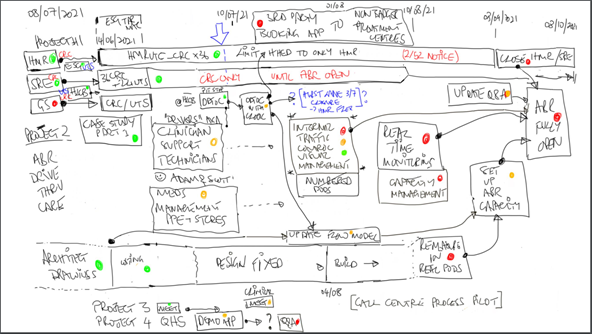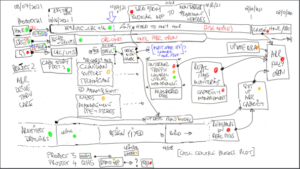 ---
Do
The strength of the Badger approach is that it could use a variety of protoypes throughout the process, starting with a computer model of the local spread of the Covid pandemic. Computer models were also built to test out each clinic that was commissioned, and those clinics in turn were used to prototype aspects of the next stage of delivery.
This process sustained rapid cycles of development and successful deployment of a new type of care delivery through a series of easy access units in less than two years from initial concept to the latest drive through clinic.
---
Did it work?
On October 21 2021, the first patients drove through Badger Group's purpose-built clinic. There is capacity for up to 500 a day, and they are still coming.
The mass vaccination campaign has alerted many in healthcare to the potential of pop-up provision, and many examples exist, run out of anything from tents to cathedrals. What is unique about this example is the advanced methods used to deliver a sequence of easy-access clinics during a time when the NHS was under extreme pressure.
Each opened as planned and worked as predicted. And that is exceptional.
---
About the authors
Mr Simon Dodds, MA, MS, FRCS
Simon Dodds is a general surgeon at University Hospitals Birmingham NHS Foundation Trust. He studied medicine and digital systems engineering before following a career in general and then vascular surgery. In 1999, he was appointed as a consultant surgeon at Good Hope Hospital in North Birmingham and applied his skills as an engineer and a clinician in the redesign of the vascular surgery clinic and the leg ulcer service.
In 2004, the project was awarded a national innovation award for service improvement. This experience led to the design, development, and delivery of the Health Care Systems Engineering (HCSE) programme.
Alan MacDonald, BSc
Alan studied at Nottingham Trent University and has a BSc (Hons) in Biomedical Science.
He worked for the Badger Group as an Out-Of-Hours primary care team leader and later became a data analyst. Since the start of the COVID-19 pandemic in March 2020, he became directly involved with the development of a multi-lane drive through Covid Referral Centre at the NEC.
He has been instrumental in the deployment of other temporary drive through clinics across Birmingham. He has also been actively part of the original team who were successful in applying this concept to the first purpose-built drive through clinic in the UK
He is frequently involved in new & novel projects within the out of hours primary care sector and is currently studying Health Care Systems Engineering.
Dr Fay Wilson, MBChB, FRCGP
Fay trained in Birmingham and has practiced there as a GP there since 1985. Her extensive national and local portfolio includes: NHS HA Non Exec, GMC fitness to practise chair, and associate postgraduate dean at Health Education West Midlands. She has served on the council of the BMA and other bodies. Fay brings people together to develop new models of care, a notable success being the Birmingham Multifund co-operative, a pioneering nurse-led walk-in centre and a prototype GP provider-at-scale ahead of its time in the mid-1990s.
Dr Wilson is medical director and co-founder of Badger, a GP social enterprise since 1996 providing out of hours and urgent primary care. COVID-19 introduced her to systems engineering, new people and new ways of thinking. Her ambition for the last decade has been to slow down.
Prof Terry Young, BSc, PhD, FBCS
After 16½ years as a research Engineer, Divisional Manager and Business Development Director, Terry became a professor at Brunel University London for 17 years.
He has a BSc in Electronic Engineering and Physics, a PhD in laser spectroscopy both from the University of Birmingham, UK.
His research has been in health technology, health services, and information systems. He has taught information system management, project management and e-Business.
His awards include the Operational Research Society's Griffiths Medal, 2021, for analysing the return simulation methods offer when used to improve healthcare services.
Prof Young set up Datchet Consulting in 2018 to support innovation on the borders of academia, health and industry, of which the project reported here is an excellent example.