Digital Health Academy to provide free digital skills training
By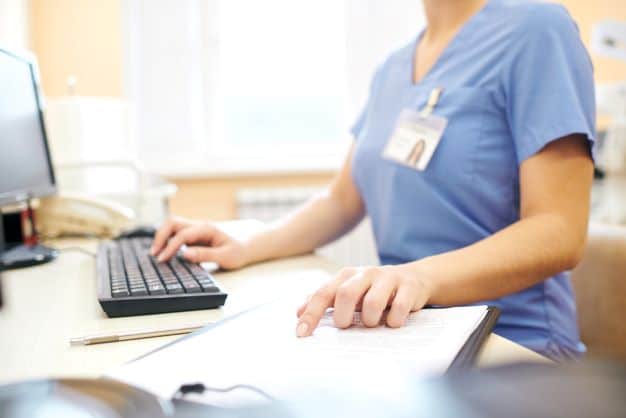 The Digital Health Academy opens today and aims to provide free digital skills training to all NHS staff by 2031.
---
From today, the Digital Health Academy, a free, digital training tool for NHS frontline staff, is in operation. Aimed at providing digital skills training to all NHS staff by 2031, the modules are now freely available on the Health Education England NHS Learning Hub. As highlighted by Health and Social Care Secretary, Sajid Javid, in a recent speech, it's crucial that the NHS improves digital provision across all health and care services and the Digital Health Academy aims to address this by building on the digital skills of all NHS staff.
A survey from the Organisation for the Review of Care and Health Apps (ORCHA), reveals that although 65 per cent of the public are open to trying digital health technologies, only a fraction of tools are recommended by health or care professionals.
In total, amongst those using digital health, only a small proportion of recommendations came from healthcare professionals, with 17 per cent of recommendations coming from GPs, eight per cent from hospital doctors, and two per cent from nurses.
The need to support a digitally ready workforce has been highlighted by the NHSX Readiness Plan and the CPD-accredited Digital Health Academy responds to the critical requirement to invest in developing front-line skills for digital health through professional development.
Currently, there is still no mandatory digital health training for health and care professionals, and the courses that frontline workers can attend are often scarcely available. In response to this need, ORCHA, with the support of universities and healthcare professionals, and with financial support from Boehringer Ingelheim, developed the Digital Health Academy, the foundation level modules of which will be freely available at orcha-academy.com and on the Health Education England NHS Learning Hub.
The academy's online training modules are designed specifically for frontline health and care professionals who want to use and recommend digital health tools but have been struggling to access the knowledge to do so safely.
ORCHA has created the infrastructure of the online training portal and designed courses, drawing on experience gained reviewing more than 17,000 health apps and operating health app libraries in 70 per cent of NHS regions.
The Digital Health Academy's aims include:
Free access for all NHS and social care staff
Availability on Health Education England NHS Learning Hub
Enabling staff to gain Continuing Professional Development (CPD) points in a vital new area of professional development
The CPD-accredited Digital Health Academy programme includes:
Short, bite-sized learning modules to suit busy schedules, which can be accessed at any time
Two foundation modules which explain the function of health apps, the current digital health landscape, the barriers to using and adopting digital health and the importance of prescribing good quality digital health products
Coming soon, a series of specialist modules including topics such as digital health for mental health, diabetes, physiotherapy, long Covid and winter pressures
Commenting on the academy's resources, Dr Neil Ralph, Head of Health Education England Technology Enhanced Learning (who has previously written about the need to prepare the NHS for digitally-driven healthcare), said: "COVID-19 accelerated the rapid adoption of digital health across health and care services and the need to embed digital health in the long term. We are delighted that ORCHA has contributed its Digital Health Academy foundation content to the Learning Hub and look forward to hosting new content in the future, further supporting health and care professionals in their roles."
Learning about the value the Academy offers frontline staff, Boehringer Ingelheim committed to sponsor the foundation modules. This has enabled it to be opened up at no cost to health and care professionals. Commenting on this, Uday Bose, Managing Director at Boehringer Ingelheim UK & Ireland, said: "There's widespread recognition of the need for digital health training for frontline workers, with organisations from the King's Fund to the Royal College of General Practitioners calling for it. With six million people now waiting for elective care, and with first-class digital tools available which could support healthcare workers with many of the high volume and low complexity cases, the need to improve digital skills and digital confidence in the NHS has become critical. We felt the academy was a perfect way to address this very real need amongst frontline staff."
Ahead of the launch, the academy has been introduced to professionals using the ORCHA digital health libraries to a positive reception:
Dr Michelle Webster, Chief Clinical Information Officer & Consultant Clinical Psychologist at Coventry and Warwickshire NHS Partnership Trust, said: "The ORCHA Digital Health Academy has helped to demystify digital health, strengthen our clinicians' digital skills and boost their confidence in using healthcare apps. The bite-sized modules are easy to follow, interesting and relevant and designed to flexibly fit around their busy jobs. I would highly recommend."
Najia Qureshi, Director of Education and Professional Practice, British Dietetic Association, said: "This is a really welcome resource for our members, who work across the NHS supporting patients with a wide range of health conditions. Innovation in healthcare is introducing new ways of working and is transforming patient care. This programme will help dietitians and other health and care professionals to develop the professional skills needed to confidently use and recommend the right digital health products – helping patients to benefit from digital healthcare."
Reviewing a foundation module course, Dr Joel Brown said: "It takes quite a paradigm shift to move physicians away from seeing prescribing as an exclusively pharmaceutical enterprise. As medicine is increasingly digitised, clinicians need to take seriously the opportunity to prescribe digital health. The course by ORCHA, as part of their Digital Health Academy, makes this point brilliantly."