Cheshire & Merseyside ICS teledermatology innovation helps relieve system pressure
By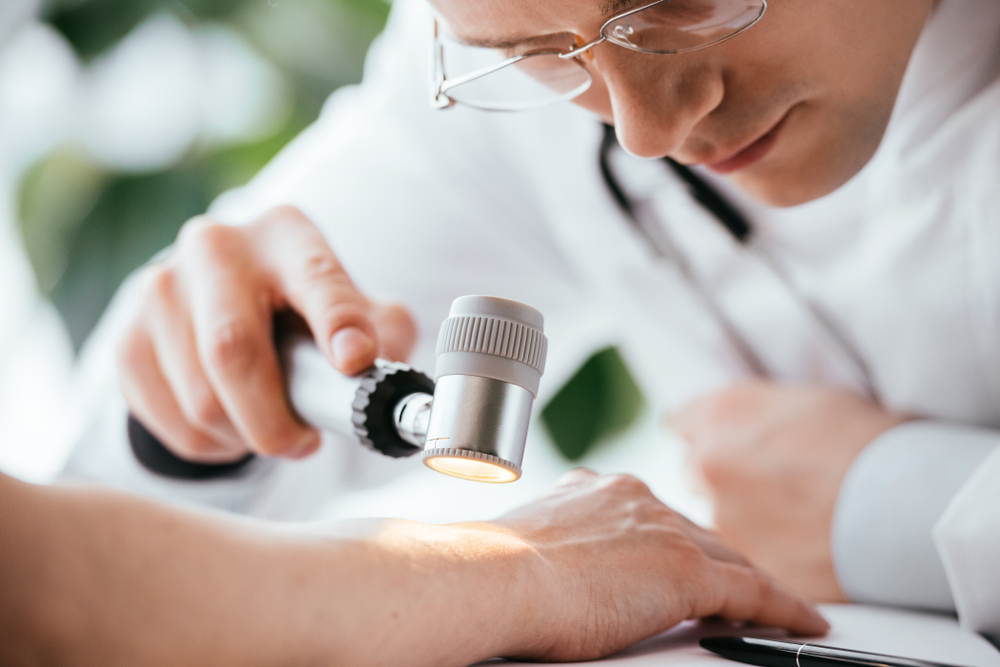 Cheshire and Merseyside ICS have launched a suite of new teledermatology technology as part of an initiative to streamline the triaging and referral of dermatology patients.
---
---
The initiative has been rolled out across four Acute Trusts in Liverpool, Wirral, and Cheshire, including Liverpool University Hospital NHS Foundation Trust. The regions primary and secondary care services have been under extreme pressure with backlogs and record service demand. The aim of the technology is to support 228 GP practices in the delivery of timely, effective and collaborative dermatology care.
The solution consists of a smartphone-compatible Dermatoscope, a connected app and an integrated digital platform, funded by the National Teledermatology Investment Programme (NTIP). Cheshire and Merseyside ICS also partnered with Cinapsis SmartReferrals to make the initiative possible.
The 228 participating GP practices have all been provided with Heine dermatoscopes, with a universal adaptor that attaches to any smartphone camera. GPs are able to use their own phones to capture high-quality clinical images of moles and other skin lesions in a data-compliant manner.
The clinical images can be attached to dermatology referrals or Advice and Guidance requests made through the Cinapsis SmartReferrals app. A secondary care specialist is able to review the case and suggest the best next steps for the patient. The images, and the outcomes of the referral or advice and guidance, are automatically updated in the patient record via an NHS ERS and EMIS integration.
Paul McGovern, Elective Care Programme Manager at Cheshire and Merseyside Health and Care Partnership said: "This technology roll-out is the product of two years' worth of planning and trials; several solutions were rigorously tested before the ICS team settled on Cinapsis SmartReferrals as selected as the most impactful teledermatology solution.
"The resource commitment and genuine partnership approach taken by Cinapsis has been first-class, enabling us to build a proof-of-concept model within the Liverpool area, secure further investment, then take the project forward across the city and into neighbouring Clinical Commissioning Groups (CCGs) within the ICS model."
One important benefit of the initiative is that it is reducing the high number of benign moles and skin lesions being referred into secondary care via the Two Week Wait (2WW) cancer pathway. This has previously been a drain on resources and also caused needless concern for thousands of patients.
Prior to the technology roll-out 30 per cent of dermatology 2WW referrals in the region were being referred unnecessarily. This was amounting to approximately 7,000 unnecessary referrals a year, costing over £1 million. Since the Cinapsis technology was launched, 49 per cent of cases submitted on the platform are successfully managed with advice and guidance alone. Clinicians resources have been freed up to tackle wait times for other dermatological conditions, such as inflammatory dermatoses.
Dr Stephanie Gallard, GP & Primary Care Lead for Elective Dermatology within Cheshire and Merseyside Health & Care Partnership, said: "Historically, my GP colleagues and I had to waste hours wrestling with clunky, poorly-integrated photo-sharing technologies if we were able to attach photos at all in a data compliant manner. Aside from the heavy burden it was placing on our time, this was leading too many dermatology referrals to be made without high-quality images. This meant that patients were often called in for a face-to-face specialist appointment when they did not need special treatment, or when they could have been more appropriately managed in primary care.
"Now that I can use the Cinapsis SmartReferrals platform to manage patient referrals and access specialist second-opinions within days, I've been able to work more efficiently and treat patients more effectively."
Dr Owain Rhys Hughes, founder & CEO of Cinapsis, said: "As a surgeon with over 20 years of experience, I know exactly how important streamlined communication is to the delivery of the NHS's world-class patient care. That's why the Cinapsis team has worked very closely with the Clinical Leads and the Teledermatology Programme team in Cheshire and Merseyside to build this bespoke, tailored solution.
"We're passionate about delivering technologies that save time for clinicians, save money for the NHS, and ultimately could save patients' lives. This partnership will make collaborative working between primary and secondary care teams a reality, and Cinapsis is proud to be playing a part in that."