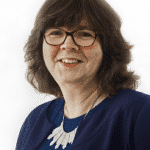 Professor Claire Fuller
Dr Claire Fuller, a practicing GP, has been the Senior Responsible Officer for the Surrey Heartlands Integrated Care System (ICS) since 2017.  In July 2020, she also took on the role of Interim Accountable Officer for NHS Surrey Heartlands CCG.  This dual role is helping to provide strong and consistent leadership across the local health and care system to create better outcomes for the one million people living and working in Surrey Heartlands.
Claire champions true citizen and professional engagement (of the broadest remit) and believes in a population health management approach to improving patient outcomes.  She is also a firm advocate of the need to join up the public sector to ensure involvement of the wider determinants of health in reducing health inequalities for the people that live in Surrey.
Claire has been a practicing GP since 1995, spending most of her career in Surrey, with a spell in Northumberland, where she worked in a single-handed rural practice.
Claire regularly speaks nationally about the work in Surrey Heartlands, multi-professional leadership, population health management and the development of ICS'.  She has been HSJ Clinical Leader of the Year, and named in the HSJ list of most influential people in the NHS in 2020.  She is a member of the NHS Assembly, the NHS People Board and the South East regional SRO for primary care.
Claire has also been appointed as Visiting Professor in the Faculty of Health and Medical Science at Surrey University for the period April 2021 to April 2024.
Become a
Partner
If you would like to enquire about a media partnership with ICJ, please contact carl.hodgkinson@dorsonwest.com for more information.